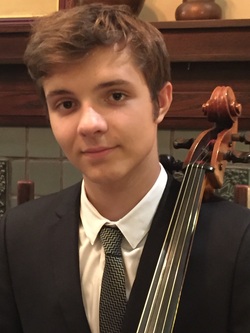 Matthew Christakos is an aspiring young cellist who studies with David Hetherington at the Royal Conservatory's Taylor Performance Academy for Young Artists, and is a Grade 10 student at the Etobicoke
School of the Arts. He began his cello studies at the age of four and completed the Suzuki strings program under
the guidance of Tricia Balmer at age 13. A regular participant in masterclasses and intensive summer programs, Matthew has studied with a number of leading
artists and teachers, including Andres Diaz, Desmond Hoebig, John Kadz, Paul Katz, Brian Manker, Paul Marleyn, and Paul Pulford. He has played with the Toronto Symphony Youth Orchestra and the Academy Chamber Orchestra of the Royal Conservatory. As a soloist, Matthew performed Haydn's cello concerto with the NYCO Symphony Orchestra and the Shostakovich cello concerto at the Centre d'Arts d'Orford. He has won several first prizes at the Kiwanis Festival of Greater Toronto, placing second overall in the Ontario strings category.


---